Origin du Château Cardan of Bordeaux
The region of Entre-Deux-Mers forms a triangle of land constituting the convergence of the rivers Dordogne and Garonne. The vineyard is located about 80 km south-east of the city of Bordeaux and is one of the largest wine areas of Bordeaux.
Grape varieties
Blend of Merlot, Cabernet Sauvignon and Cabernet Franc.
Vinification
Made from day-limestone soils, grapes from Château Cardan are picked al full maturity before being vinified in our cellars. Maceration for 3 weeks followed by a maturation of one year to refine its tannins.
Organoleptic d
e

scription

This wine has a nice roundness in mouth with mellow tannins. This wine is fruity, crispy and balanced. The final brings aromatic notes of blueberry.
Pairing food and wine
It goes very ,weIl ,with red meat, Grilled meats and cheeses.
Rewards Château Cardan:
Château Cardan 2011, golden medal  in the concour of Bordeaux 2012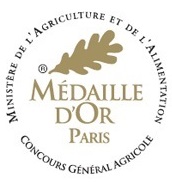 Château Cardan 2014, golden medal in the concour of Paris 2015
Information Chateau Cardan- Bordeaux
Château Cardan 2011
Golden Medal
Concours de Bordeaux 2012
Châtea
u Cardan 2014
Golden Medal

Concours Agricole de Paris 2015